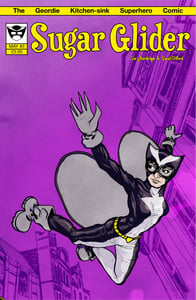 £

3.00
Surrounded by friends and family with it all figured out, Susie Sullivan is desperately unsure of her purpose in life. Casting ordinary pursuits aside, Susie takes to the Newcastle skyline as the crime-fighting…SUGAR GLIDER!
Each issue of Sugar Glider is designed to work as a standalone story that will build to a bigger arc if read with other issues.
Sugar Glider 1 has SOLD OUT, but you can buy pdf versions at our Comicsy site.
Sugar Glider 1 reviews
"Truly the best Small Press comic I have ever read." 4.5/5
- geeksyndicate.co.uk
"One of my favourite moments in comics of the past 12 months…quintessentially British and highly recommended" 9/10 - ComicBuzz.com
"A fantastic debut issue of a new all-ages superhero" - HyperGeek.ca
"I really recommend you buy it!" - Small Press Big Mouth
"Reminded me of those old classics Billy the Cat and The Leopard from Lime Street…a strong debut." - hiexcomics.blogpot.com
"I'd recommend it to anyone who's a fan of the superhero genre – and, indeed, to those who aren't." - johnleescomics.wordpress.com
"It's nice to see someone doing a superhero comic based in the North East…well worth getting." - ComicBitsOnline.com
Sugar Glider 2 reviews
"The Empire Strikes Back of comic books has arrived." 4.5/5 - GeekSyndicate.co.uk
"A wonderful piece of work that throws down the gauntlet to every other comic out there, indie or otherwise." 9/10 - ComicBuzz.com
"If you enjoy small press and indie books then this is a must read book…a very upbeat and positive message about the travails of being young in a modern England." - mombcomics.com
Written by
Daniel Clifford
Art by
Gary Bainbridge
Colour covers
Black and white interiors
28pgs (Sugar Glider 3 - 40pgs)
Sugar Glider 2 comes with
Anthony
Written by
Daniel Clifford
Art by
Lee Robinson
Black and white
12pgs