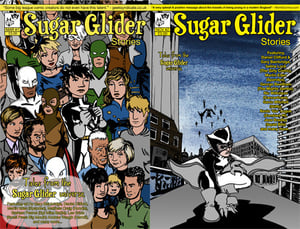 £

3.00
Surrounded by friends and family with it all figured out, Susie Sullivan is desperately unsure of her purpose in life. Casting ordinary pursuits aside, Susie takes to the Newcastle skyline as the crime-fighting…
SUGAR GLIDER!
13 fantastic artists from the UK small press scene take on the Sugar Glider universe for SUGAR GLIDER STORIES!
Picking up where Sugar Glider issue 1 left off, Sugar Glider Stories quickly zooms back five months to Fathers' Day at the Sullivan household. From there the book takes us through to the present day, via a series of vignettes and short stories.
Readers of Sugar Glider issue 1 will get a greater insight into the Sullivan family, find out who is hunting down the Sugar Glider costume and learn about the Vigilance project super-agents.
Those who haven't read Sugar Glider issue 1 will enjoy a range of short stories about MI5 super-agents and North East-based characters drawn by some of the UK comic scene's most talented creators.
Each strip and pin-up is drawn by a different artist from the small press scene and the Paper Jam Comics Collective.
If you prefer, you can pick up digital copies of the Sugar Glider comics at our Comicsy site.
"Someone else said that Sugar Glider was 'the best small press comic they had ever read.' I wish I had said it, and I would have meant it too. I can, however, be the first to say that Sugar Glider Stories can take its place alongside the best small press comic I have ever read as every bit its equal." - ComicBuzz.com
"Some big league comic book creators do not even have this talent" 4/5 - GeekSyndicate.co.uk
(Triple-pack with Sugar Glider 1 & 2 is also available)
Written by
Daniel Clifford
Gary Bainbridge
Art by
Gary Bainbridge
Daniel Clifford
Martin Eden (Spandex, The O Men)
Graham Pearce (Sgt Mike Battle)
Jim Cameron (Sgt Mike Battle)
Matthew Craig (Hondle, Trixie Biker)
Andy Waugh (Hermit, Coupledom)
Lee Grice (Small Press Big Mouth)
Kevin 'Gio' Logue (Zombies, Hi!)
M. Newman
The Christian
Simon Cavanagh
Ian Mayor
Dan Gilmore
Colour covers
Black and white interiors
40pgs